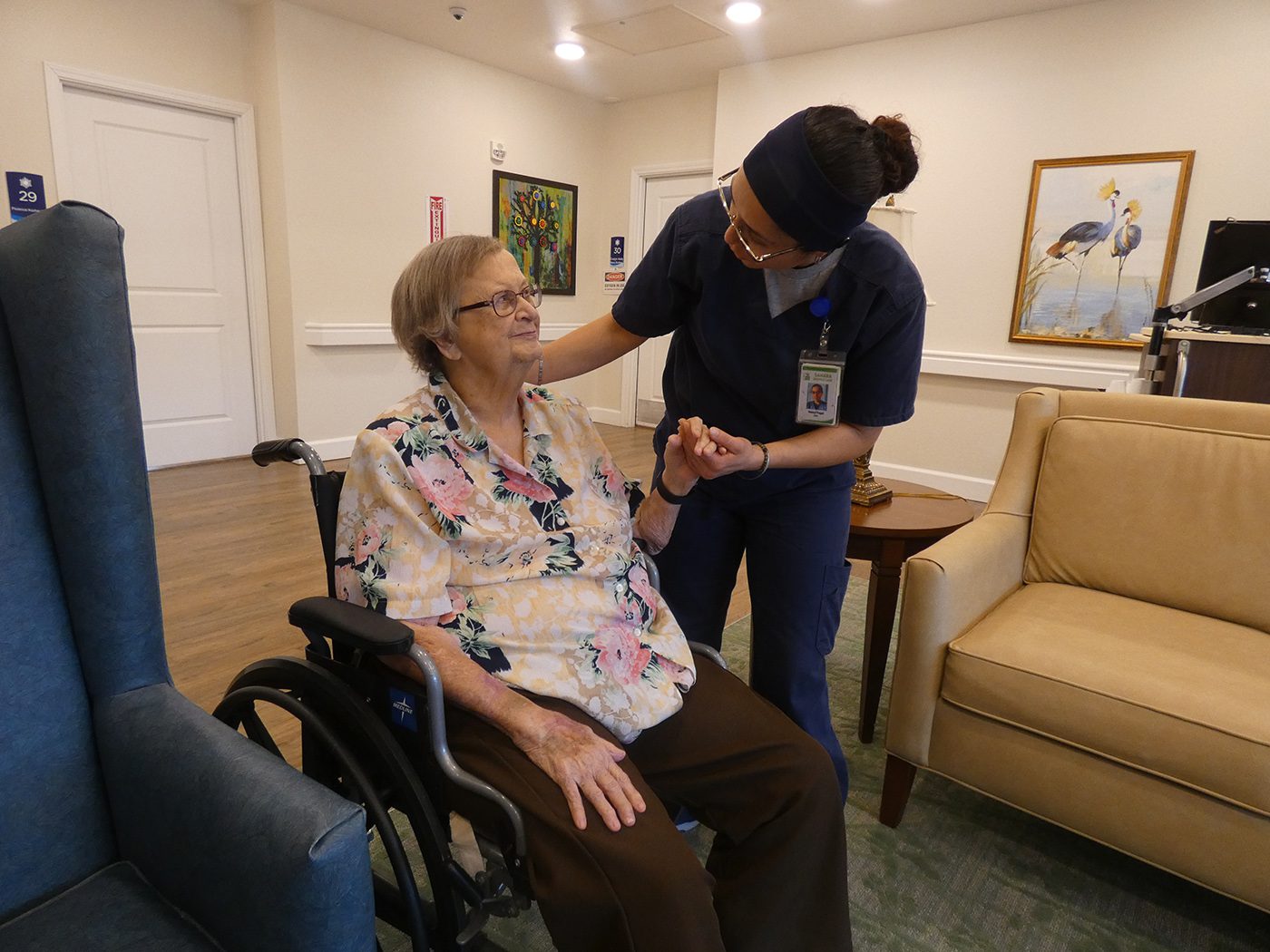 The Village at Sugar Land isn't part of a giant corporation. We're a family business, founded by a husband and wife team of registered nurses with more than 30 years of experience in senior healthcare. Our owners have a deep commitment to providing compassionate, high-quality care that mirrors their Christian values.
Our staff not only includes registered and licensed nurses but also physical therapists. All personal care attendants receive specialized training in resident care and dementia care. They are devoted to helping you and to improving the quality of your daily life.
A Team Based on Commitment & Faith
At The Village at Sugar Land, we know that caring for you means caring for your individual, social, physical, emotional, and spiritual needs. All of our services and all of our actions focus on enriching each of these components. Together, these five dimensions make life richer and each day more blessed.
Meet Our Dedicated Team of Professionals
Jessica White
Director
Jessica's grandparents were instrumental in her decision to make senior living her life's work. Her late maternal grandfather was a Baptist minister of 50 plus years that taught her the value of Christ-like compassion, commitment, and strong faith. Both of her grandmothers were master bakers and natural caregivers that nurtured their large families and taught her the importance of caring for others.
As a young girl in elementary school, she made the decision to become a nurse. After working in several different areas of nursing after graduation Jessica found her ultimate purpose and passion in senior living when a Director of Nursing requested her to work in her senior living community. Jessica loved everything about caring for seniors and felt she had found her calling.
Today she lives in the Cypress Fairfield area with her family. She is an avid gardener, baker, and loves watching classic romance movies as well as Dallas Cowboys football in her free time!
Her favorite quote is: "The only way to do great work is to love what you do. If you haven't found it yet, keep looking. Don't settle." -Steve Jobs
Ana Trochez
Marketing Director
Ana Trochez
Marketing Director
Ana Trochez joined The Village at Sugar Land early last year. Spending her summers with her grandmother is one of her fondest memories. Her grandmother became the framework that helped develop and shape the person Ana is today. Her passion for senior care and helping others stems from her grandmother's example of loving others as God loves us.
In the early 2000's she worked as a sales manager at a prestigious diamond store. Helping people celebrate life's special moments was a rewarding career for her. Still, she always felt that her purpose was to help those less fortunate. So, in 2010 began working at a not-for-profit organization that provides behavioral healthcare and developmental disabilities services. She played a vital role on the interdisciplinary care team across the continuum of care.
Ana credits her success as a marketing director to the ability to embrace a process that focuses on relationship building. As a mother of a special needs child, her journey is similar to the one her clients are on today. Therefore, she applies the golden rule to every interaction she has.
One of her favorite quotes is, "One who looks outside dreams; one who looks inside awakens. "Carl Jung
Dhiren Kalal
Rehab Director
Dhiren Kalal
Rehab Director
Dhiren is a licensed Physical Therapist with a Master's degree from the Brooklyn College, City University of New York and Bachelor's degree from Gujarat University, India. He has worked in  inpatient and outpatient physical therapy, skilled nursing facility, home health care and sports medicine.
Dhiren loves interacting with seniors, who respond well to his empathy, not to mention his sweet and caring nature. From a young age, Dhiren has developed a fascination for the human body, its amazing ability to heal and the dynamic process of aging. His extensive training and work experience has given him a strong foundation in physical therapy, with a specialization in geriatric rehabilitation. Dhiren is a firm believer in evidence based practice, and is always willing to learn the most effective ways to help his patients.
Outside of work, Dhiren indulges in swimming, hiking, reading, writing and spending time with friends and family.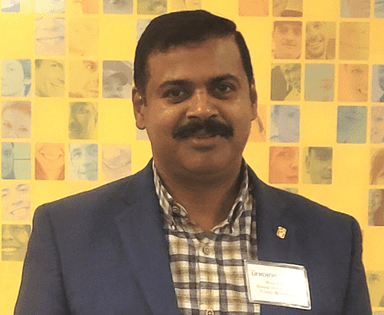 Shiju Kurian
Director Dining Services
Shiju Kurian
Director Dining Services
Shiju Kurian possesses an international career in hospitality, with more than three decades of experience. He joined The Village at Sugar Land last year. In his role as a Director of Dining Services, he oversees the day-to-day operations of food production and service, creating nutritious and top-quality food for the residents. He implements new culinary programs in conjunction with the company's marketing and culinary teams.
Shiju Graduated and started his career in India and extended to Middle East, United Kingdom, Australia and currently in USA, making him an asset to Unidine Corporation. Prior to working at The Village, he was at a senior management position at Darden Group USA, Disability Service Government of Australia, National Trust United Kingdom, Hotel and Restaurant Consultant in Middle East and India. Through his years of service, he gained proven leadership expertise in operations, sales, staff recruitment and development.
Shiju is a caring, compassionate person and understands the needs of The Village at Sugar Land residents and provides quality service to them. Besides all, he has a passion for contemporary art and in his free time conducts exhibitions at different venues.
His favorite quote is, "We are Exceptional People Providing Exceptional Service to Exceptional Customers"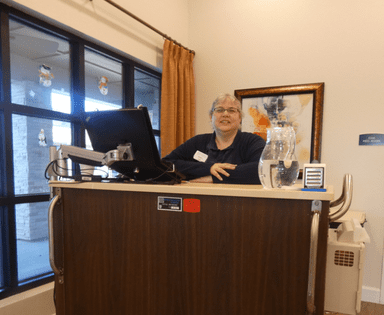 Angel Island
Certified Medication Aide
Angel Island
Certified Medication Aide
My passion has always been wanting to be a nurse or work in the medical field caring for others. I got my MA and medication Aide Licenses and have been working in skilled and assisted living facilities ever since.
I love my residents at The Village at Sugar Land very much, and my compassion for them is very strong. I treat them as my own family. I've been working at The Village at Sugar Land for over a year and enjoy coming to work every day. It's my favorite place that I have worked so far. Seeing my residents light up with huge smiles just makes the world of difference in my job and I simply enjoy it.
My grandma was an RN so it runs in my blood. It's my deepest desire to go to college and fulfill my dream of being an RN someday!!
I have four beautiful grownup children and three handsome grandsons who live in Idaho. I love to cook and relax on the days I am off. I enjoy classical movies and my all-time favorite movie is "Gone with the Wind"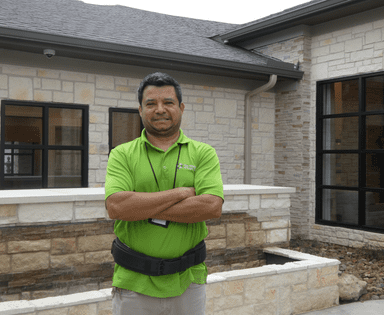 Marcial Velasquez
Maintenance Manager
Marcial Velasquez
Maintenance Manager
Marcial is a dedicated and hardworking maintenance personnel at The Village at Sugar Land. He ensures the building's interior and exterior are in optimum condition at all times. His maintenance activity includes safety checks, asset repairs, and minor fixing if needed.
His job is to make sure everything is functional and comfortable and the occupants residing have a safe environment at all times. Marcial is very punctual and takes his job very seriously. He performs his duty promptly. The residents at The Village at Sugar Land appreciate his dedication and work ethic to the newly built community "The Village at Sugar Land".
Besides his work duties, Marcial is a friendly person and enjoys his leisure time with his family and friends. He loves to watch movies and stays active in outdoor activities with his boys. Ensuring that the residents have a safe and clean environment is Marcial's number one priority.